YOU PAID WHAT FOR THAT WINE!
Top Ten Most Expensive Wines in the World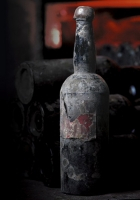 Fantasizing about luxury and a never ending budget is always a fun way to pass the time. For the jewellery collector it might be the finest from Cartier or Tiffany, a car fan likely has their sights set on a Ferrari Enzo or Bugatti Veyron but the ideal dream for a wine lover is no doubt delving into the wonderful life of the "World's Most Expensive Wines".
By no means does price dictate the quality of wine. There are plenty of fabulous inexpensive wines just as there are many less appealing expensive wines but in the spirit of an enchanting notion, let's take a look at the top ten most expensive wines in the world:
1. Chateau Lafite 1787 : $160,000
The bottle of wine that fetched the highest ever price was Chateau Lafite, 1787. It fetched a price of $160,000 at Christie's London in 1985. The wine was bought for Forbes collection. The specialty of the bottle is that it bears Thomas Jefferson's initials etched on the glass.
2. Chateau Mouton Rothschild 1945 : $ 114,614
Jeroboam Chateau Mouton-Rothschild 1945 fetched the second highest price ever. The wine was considered to be one among the highly admired vintages of the 20th century. It was sold for a whopping $114,614 at Christie's London in 1997.
3. Chateau d Yquem 1784 : $56,588
The wine bottle of 1784 Chateau d'Yquem stands third. It was sold at Christie's London in 1986 for an amazing sum of $56,588. This bottle also bears the initials of Thomas Jefferson.
4. Massandra Sherry : $43,500
Now comes the turn of the 1775 Sherry from the Massandra Collection, sold at Sotheby's London in 2001. It fetched a price of $43,500. Massandra winery was highly admired in the Czarist Russia. Massandra's cellar contains umpteen bottles (close to a million) of both Russian and Western European wines. This Sherry was the oldest among the Western European variety.
5. Romanee Conti, DRC 1990 : $28,112
At the fifth place stands set of eight bottles of Romanée-Conti, DRC 1990. The set was sold for $224,900 (or $28,112 per bottle) at Sotheby's London in 1996.
6. Le Montrachet, DRC 1978 : $23,929
Sixth in line is Le Montrachet, DRC 1978. Seven bottles of it were sold at Sotheby's New York in 2001 at $23,929 per bottle.
7. Romanée-Conti DRC 1990 : $5,800
Romanée-Conti, DRC 1990 is in the seventh place. 6 magnums of the wine were sold at Zachy's New York at $5,800 each.
8. Screaming Eagle 1994 : $3,833
At the eighth spot stands three bottles of Screaming Eagle 1994, sold at Christie's Los Angeles in 2000. The price fetched was $3,833 per bottle.
9. Chateau Mouton Rothschild 1982: $700
Ninth in line is fifty cases (six hundred bottles) of Chateau Mouton-Rothschild 1982. The sale was made at Christie's/Zachy's New York in 1997 for an astonishing price of $420,000 ($700 per bottle).
10. Screaming Eagle Cab 1992: $300
This wine is usually sold for $300 but this wine should have ranked first in terms of price, its value was somehow overshadowed as it was auctioned for charity. Imperial of Screaming Eagle Cab 1992 was sold at the Napa Valley wine auction in 2000 for an astronomical sum of $500,000. The wine as purchased by Cisco Systems executive Chase Bailey. Though technically it had fetched the highest ever price, but much of its price has to be discounted as it was meant for charitable purposes.
(Partial article and photo credit from World Interesting Facts.com)