Winexpert Winemaking
Winemaking is an ancient art passed down through generations, and the process of making wine has remained relatively unchanged for centuries. When you make great wine, you are creating something special. You are taking the best of nature and combining it with your hard work and knowledge to create a unique expression of the land from which it comes. Making wine is a labor of love, and the feeling of accomplishment that comes with it is incomparable. Schedule your winemaking experience in Pickering today and enjoy making memories that will stay with you long after the bottle of wine is gone.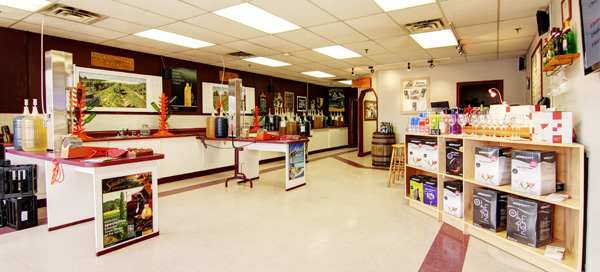 What We Do
Winexpert is the ultimate wine-making experience! Our full-service wine-making facility in Ontario offers only the very best grape juices from around the world. Our on-premise "personal winery" allows you to create your own custom wines in just 5-10 weeks depending on type and level. We also have casks so you can barrel age your wine to your own unique tastes. With Winexpert, you'll have a one-of-a-kind experience crafting your own custom wines. Come and have the time of your life creating your own special blend!
How it Works
Winexpert Pickering makes winemaking an enjoyable and easy experience. We call this process "the old 2 step":
Step #1: Make it!
Select the wine you wish to make and start the fermentation process. Which means stirring the juice and sprinkling the yeast on it (approximately 10 minutes). After that, you can just sit back and let the fermentation do its magic.
Step #2: Bottle it
Call at least 2 days or more ahead to book your bottling appointment. Come in to bottle your wine. Takes approximately half an hour to bottle 30 bottles.
Making wine has never been easier! With Winexpert Pickering, you can make delicious, high-quality wine in just a few steps. So what are you waiting for? Come in and make your own delicious wine today!
What's in my cellar?
Can't remember which type of wine you made 3 years ago? No worries - Winexpert Pickering has your back. Contact us to request your customer history form and receive a comprehensive list of every type of wine you have made with Winexpert Pickering. Whether you crafted a sweet Chardonnay or a bold Cabernet, you can easily recall all of your favorite creations with our help. Don't miss out on the opportunity to savor your favorite vintages; reach out to us today and get your customer history form!
WHAT MAKES US SUCCESSFUL?
For over 26 years, Winexpert Pickering has been successfully providing customers with great wine, exceptional knowledge, and superior service. We take pride in offering our customers the highest quality wines, the best advice, and customer service that is second to none. Our dedication to our craft makes us successful, and we make sure that our customers are happy every step of the way. We want people to come in and enjoy the experience, and we do everything we can to make that happen.
Superior-Quality Wine
At our winery, we understand the importance of word of mouth. We strive to always make the best wines possible so that we can continue to satisfy our customers. We take pride in the quality of our product and the satisfaction that it brings. We believe that when someone has a positive experience with our wines they will be sure to tell their friends and family. We are committed to making sure that every sip of our wine is as enjoyable as the last. We want to ensure that our customers will come back to us time and time again to purchase our award-winning wines.
Extensive Knowledge
Each visit to Winexpert Pickering in Ontario is an opportunity for you to become a bit more of a wine connoisseur. Whether you're looking for the perfect pairing for a special dinner or trying to figure out the ideal temperature for storing your treasured bottles, we're here to help. We passionately curate new and interesting facts about wine and winemaking every day, so that you can always leave with a little bit more expertise than when you arrived. We take the time and effort to ensure that you never stop learning, and it's that commitment to knowledge that keeps us dreaming about wine.
Exceptional Service
At Winexpert Pickering, good service is more than just a dying art; it's a way of life. Our knowledgeable and friendly staff are always ready to go the extra mile to ensure that our customers have the best experience possible. We strive to provide the highest level of customer service and satisfaction throughout every step of the process. We understand that good customer service isn't just about getting the job done, but about building a relationship with our customers. At Winexpert Pickering, good service is more than a dying art — it's how we do business.
At Winexpert Pickering, we believe that the winemaking experience should be an enjoyable and memorable one. Whether it's crafting your own wedding wines for your special day or attending one of our unique private events, we strive to make sure that you will have a memorable time. Our commitment to quality and customer satisfaction has allowed us to create some of the finest wines that are sure to make your special occasions even more special. So, come join us in Pickering and let us share with you the joy of winemaking.